Being, as with many areas of my life, a little bit skint and rather lazy, my 'beauty routine' in all it's glory, is pretty minimal- still, I like reading other people's blog posts about what they use, so thought you might like to see mine!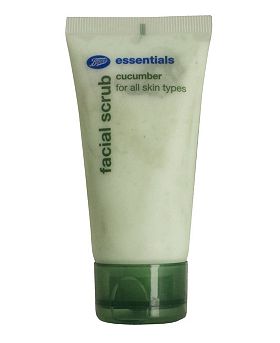 1- Boots essentials cucumber face scrub
A bargainous £1.50 a tube, this is my go-to exfoliator. I love a good face exfoliate and have tried LOADS, but I always end up coming back to this. It's a finer but grainier than other exfoliators (if that makes sense!) so you can really scrub it in and as an added bonus,  I'm told by my sister, who has infinitely more sensitive skin than me that it doesn't cause her any problems either
2- Nivea double effect eye make up remover
Being a blondie, I wear mascara every day and got a bit bored with finding it on my pillowcases of a morning, so had to go for an eyemakeup remover that was a bit heavy duty, but not so much so that it irritated my contact lenses! I'm on my first bottle of this stuff, and so far so impressed- You have to shake this hard, and then get it on the cotton wool quickly, or it starts separating back into two layers, but it really does remove EVERYTHING! so no more waking up with mad panda eyes, or dirty pillowcases!
And once again, it's CHEAP! a mere £3.59 from boots – Are we sensing a boots/cheapo theme?!
3- Vaseline
Since the dawn of time, I have always had really dry lips- I can remember my mum buying me mint flavoured chapstick in the chemist when I was about 4, and I went through a horrible stage aged about 10, where I used to lick my lips a lot to try and moisten them, which led to my lips and basically as far around my mouth as my tongue would reach getting so sore and cracked, that it needed steroid cream to sort out and has still left me with a really wonky lip line! Consequently,  I always make sure I have a little pot of vaseline stashed about my person- my current favourite is the cocoa butter flavour, just because it smells nice. A quid or so a pot, from boots/superdrug/chemists throughout the land. I also use it as an emergency cuticle/hand moisturiser
4- Skin wisdom youth protect day moisturiser
If you believe what the beauty pages tell you, I'm a terrible person- Lucky me, throughout my teens, my skin was very well behaved and so I've never bothered with the old cleanse tone and moisturise, save for washing my face in the shower of a morning, and a bit of an exfoliate once or twice a week. As I crept towards the end of my twenties though, I thought it was about time I looked for a moisturiser. After trying a few, I found the 'dry skin' ones made everything feel greasy, the 'normal' ones brought me out in spots and the 'oily skin' ones made everything feel a bit tight, I happened across this one, on the shelves at tescos, would you believe! -I smooth a bit on after a shower and while I don't think my skin looks any better than before I started moisturising, I'm hoping I'll be doing a bit of damage limitation for my old age and I might not get crinkly quite as quickly! If you fancy trying it, I'd say have a go now, as I've just looked on the tescos website and it's half price- £3.50 a pot!
5- Eyebrow shapers
Again, being fair, technically, from a distance you can't really see my eyebrows, but I still feel better when they're in tidy lines- if nothing else, it gives me something to follow when I'm drawing them in. Tweezing always seemed to hurt a bit too much, so I'm a wax strip girl instead. The ones I use at the mo are from superdrug, but I can't find them on their website, so perhaps they've discontinued them. Anyway, in a nutshell, you get sheets of wax strips, shaped to use above and below your eyebrows, (must admit, I don't ever use the ones for above) plus some little rectangular strips too, which I use for tidying up the edges, and between brows. Damnation, I bet they've discontinued them and I'm going to have to go buy something different.